INSTRUCTIONAL VIDEO

: How to make a burger with air-dry clay
Another project that I have learnt so much. I had so much fun with it though it was really time consuming with the filming and editing parts. There was an important footage that I forgot to press record and so I had to make a whole new hamburger just to record that part again. Writing texts was also fun but not so much with exporting PNG files to every single subtitle. I noticed I had one typo or two typos but I am just gonna move on for now. 
For this project, I filmed the footages with an iPhone, animated footages were done in Procreate and then edited in iMovie. I feel like I am getting so much better and confident with my iMovie editing skill :)
I think this video is my most favorite among others because It shows how much I have improved in this semester. I also think it's really practical for me as a teacher to make videos more options to give instructions to students online, or just to show how to create something as an artist. 
There are many different ways to create assessment for students. I find Kahoot easy to access, fun for students to play and useful for me to check their learning and understanding. I like that Kahoot provides very straight forward with designs and templates which I can just replace the texts and images to my own quiz. Easy breezy! 
My website, Adobe Portfolio does not support Kahoot embed so I am adding here a button to click on to start the quiz!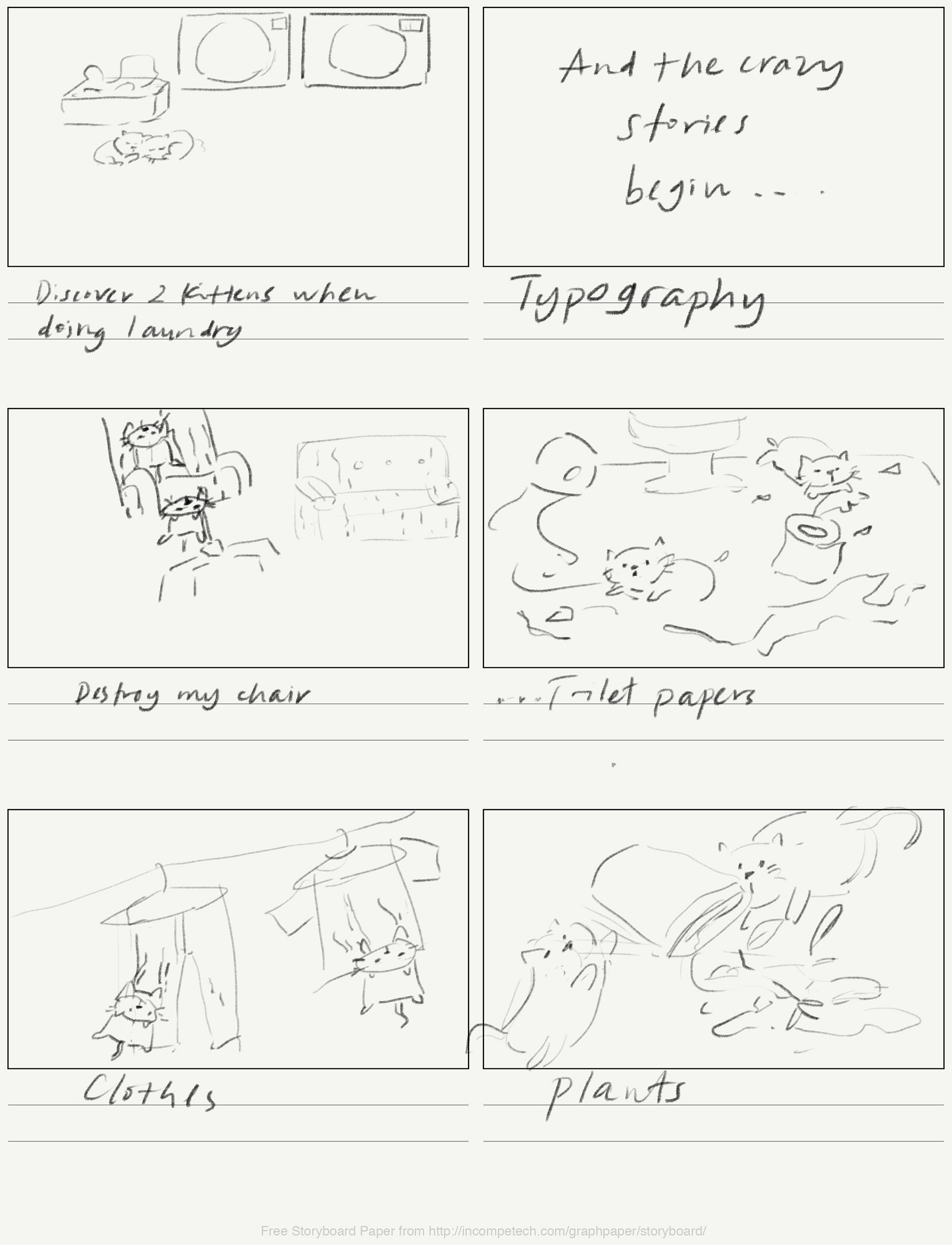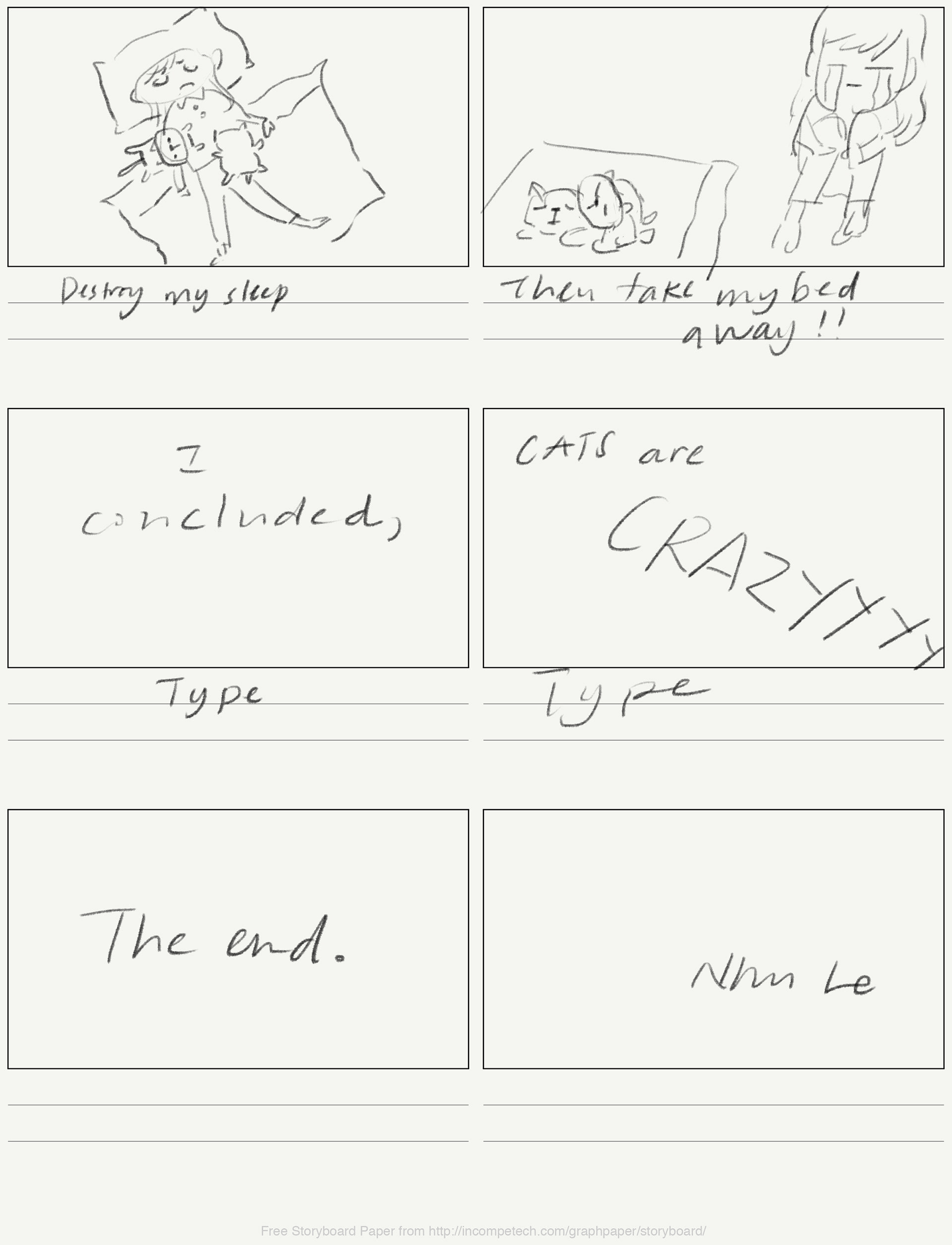 Initially I was going to do rotoscoping because I anticipated that  with work and other classes, I would not have enough time to make an animation video. However I really wanted to learn how to do animation and push myself out of my comfort zone. Several times in the past, I attempted to try out but procrastinated due to a huge amount of time I knew I had to put in for an animation. Fortunately, prior to this project I had tried making Gifs with Procreate and I did some research to see if I could make animation with it. There are some limits making animation with Procreate on an iPad but I think
 it's a great tool as I could bring it around to draw any time I could. This way hopefully I could finish my animation. 
Guess what, I did finish it as required but there were many things on the storyboard I wish I could have more time to include in. I definitely will go back to this in the future to add more movements, texts and other effects to make this more fun to watch!
Overall, I enjoy this project because I learnt something new and I finally tried out something i haven't done before. Hope you enjoy my very first animation!
3D MODEL: Coffee ice cream cup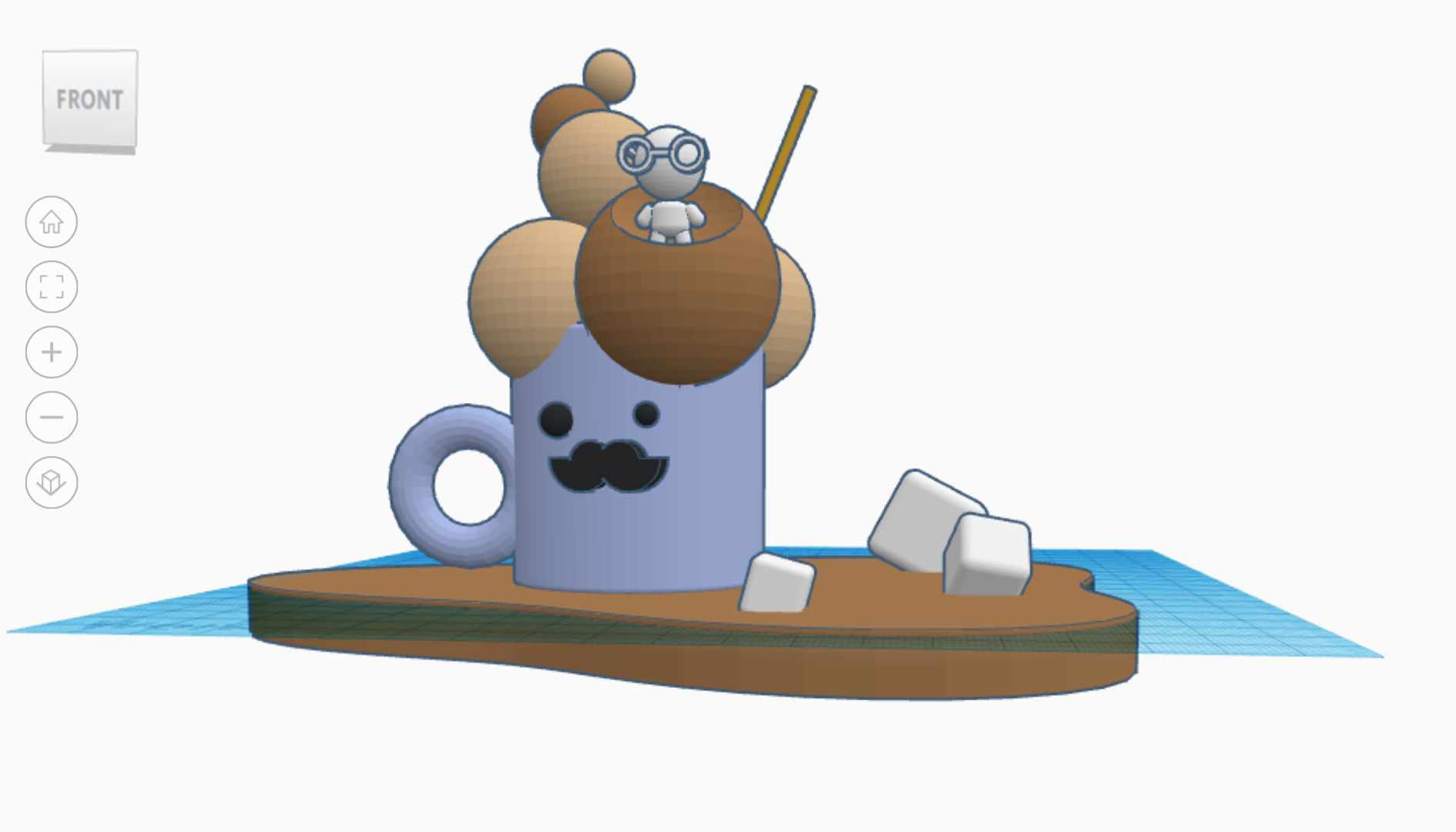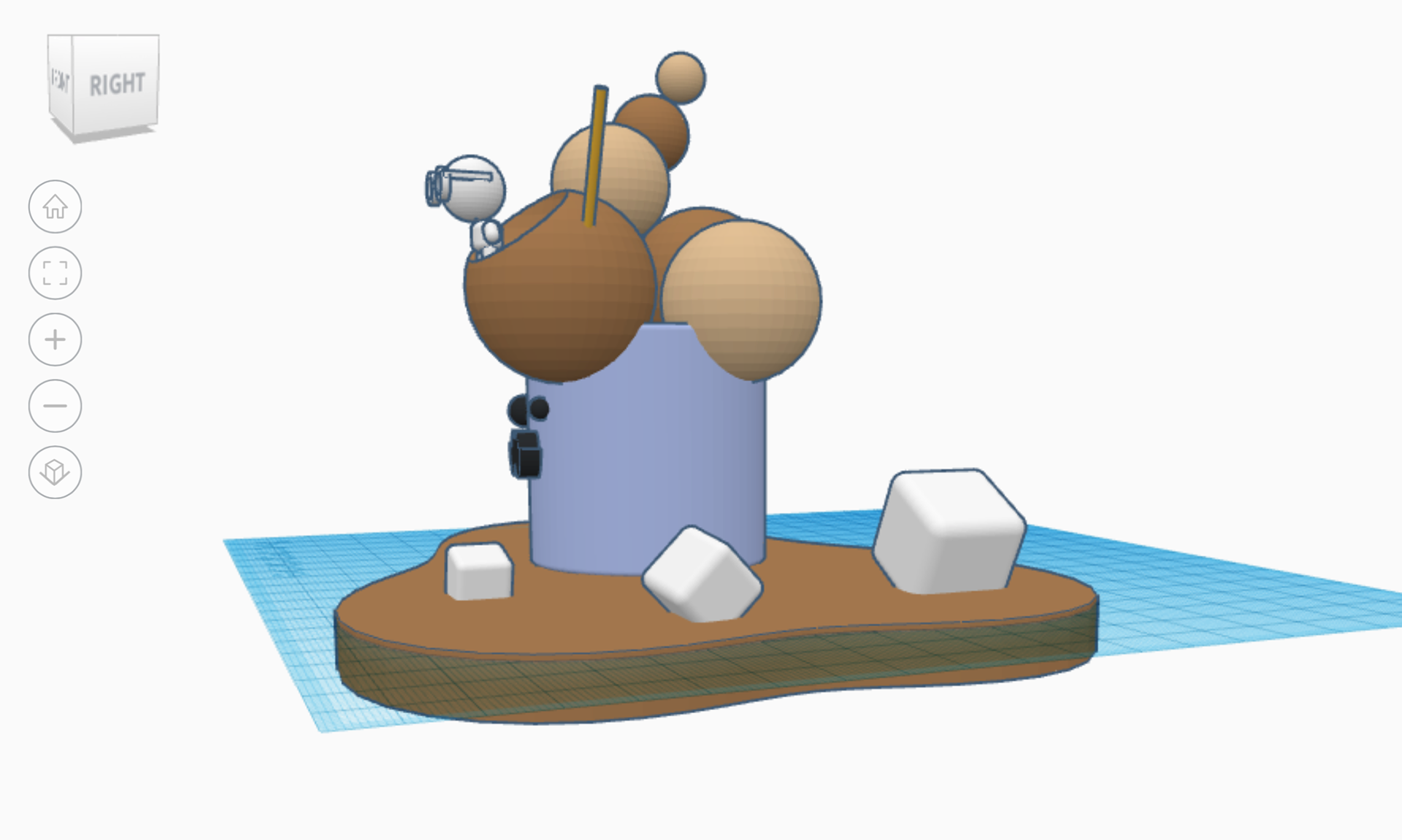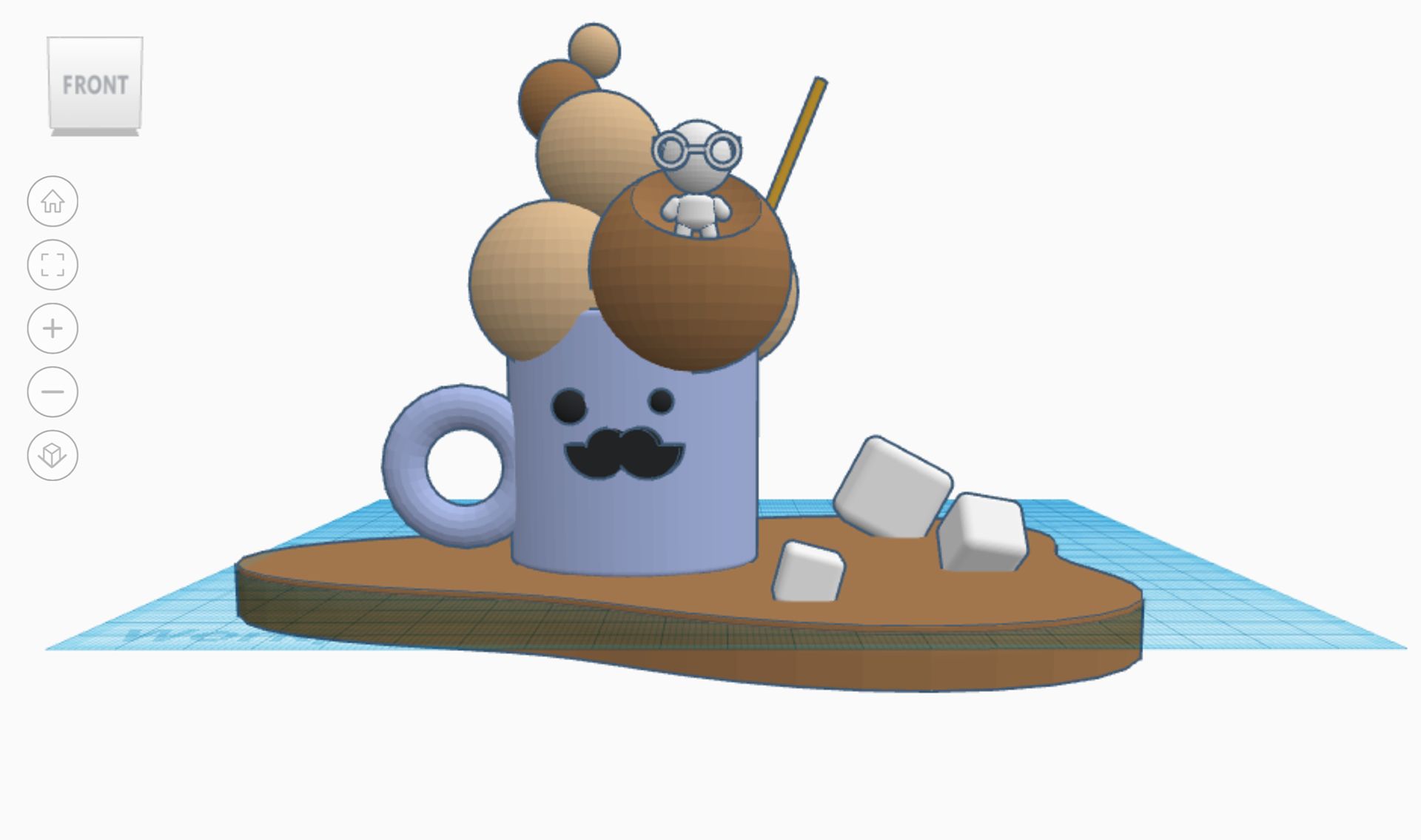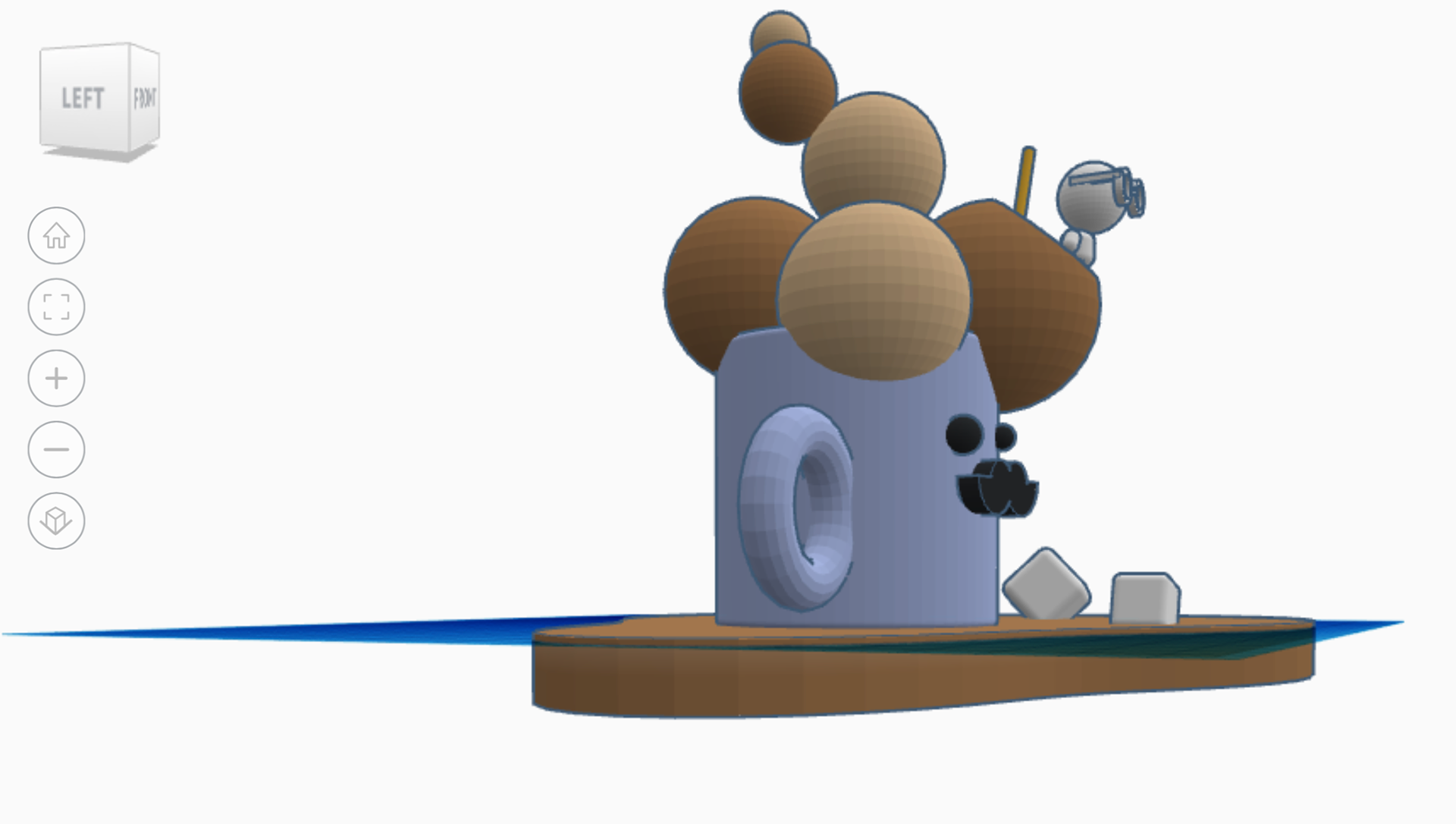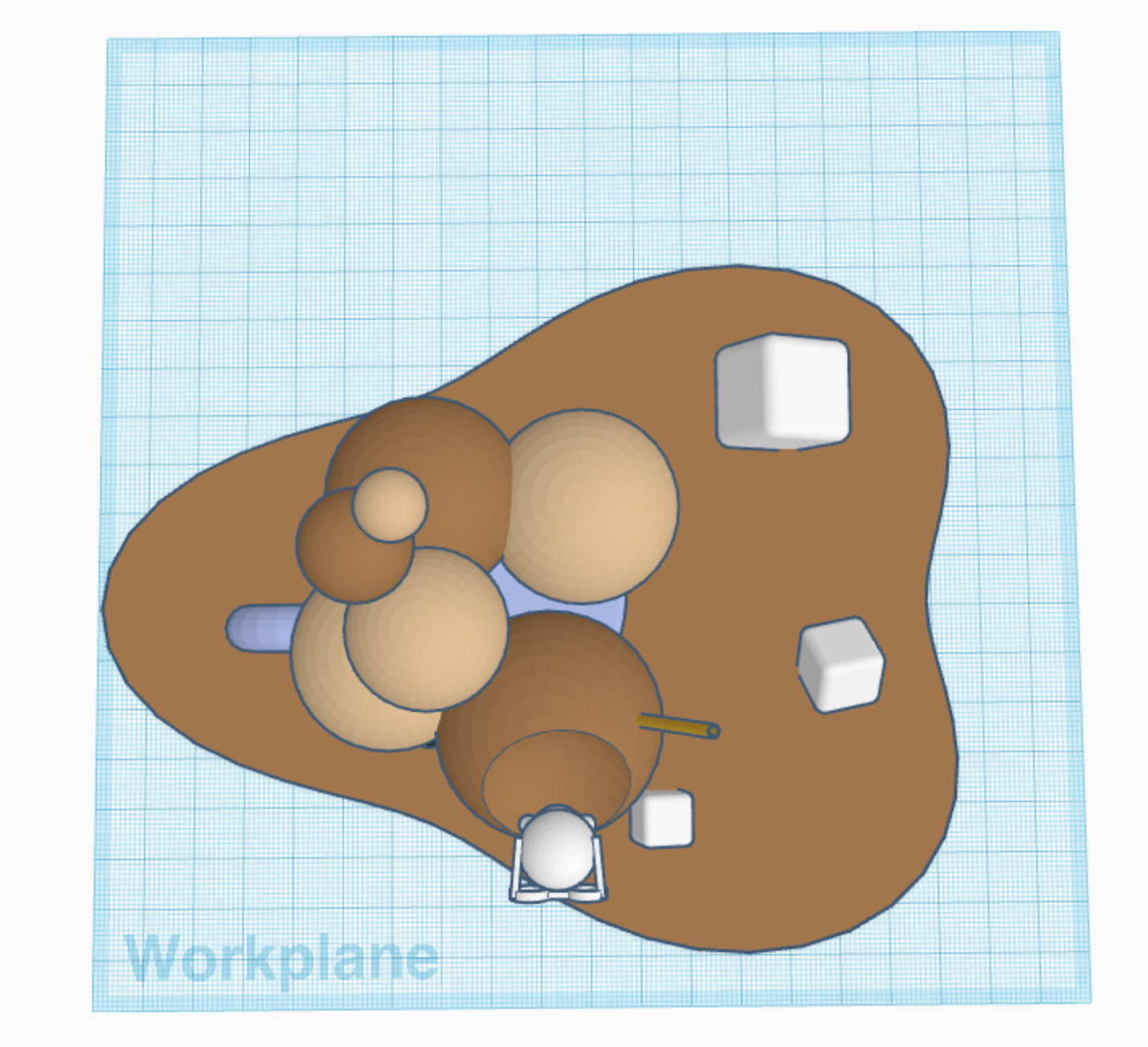 I have a very mixed feeling with this project because honestly it got me so frustrated. I actually finished one model and I thought I would just have my dinner and come back later to touch up a little bit. When I came back from the yummy dinner, everything, however, to my shocking, was gone...  I was FURIOUS and speechless. I literally started from scratch again. I am glad I did ( I had no choice anyway T_T). I started to get the hang of it so it was getting easier to control. I didn't have a mouse so I used the touchpad on my MacBook, which I would not recommend to anyone to do this. Use a mouse if you can. Adjusting the size and moving the model around is a painful task. It was really difficult to click on some specific parts of the model. In addition, the space was so confusing. Most of the time I felt like I was in the movie " Inception" with that matrix space. I had to rotate the whole model in different angles to make sure all parts of the model are "glued" together. 
After I finished the second model, I was pretty happy how it came out. I uploaded the STL file to viewstl.com to get the embed for  my website but unfortunately Adobe Porfolio did not support embed from Viewstl. Such a bummer because I really like how the model was viewed on Viewstl. I determined to figure out a way and ended up screen recording on my laptop  to get the video of how the model looks like when it's rotated. It would be more fun if the embed worked out so everyone could just click and view the model though. 
I know I am so whinny about this project but being able to accomplish something out of my comfort zone is really awesome. Will I ever use TinkerCAD again? Maybe yes, to teach my students. I want them to know how painful it is to learn TinkerCAD haha!
WELCOME TO MS. NHU ART CLASSROOM!
Students! You are welcome to discover hidden resources in this classroom by clicking on different objects in the room. Have fun exploring!

😁😊
When thinking about Google Slide, often I think about making presentations ( which I am not a fan of ) but this project shows that we can create something fun out of Google Slide. I was not really interested in Bitmoji's aesthetic to be honest so when Laurie said we could make anything we want, I decided to draw my own classroom. I want my classroom looks fun, cozy and comfy. It shouldn't look like a classroom but a playground, a nutshell for students to experiment, explore and research their ideas. I did really have fun with this project!
 It was very difficult for us be able to schedule a day to meet outside of classroom to work together due to our completely different work schedule. Thanks to the time Laurie gave us in class, we were finally able to discuss the theme of our group: Entrenched power. We had a hard time try to understand each other's ideas about " what is Entrenched Power" because it's a huge topic and it can go to many many directions . I suggested us to narrow it down so we have the same focus point to put it down on the lesson plan, otherwise it's really hard to unify all the ideas together on the presentation as well. We were finally able to agree on how we should make the presentation. That was such a relief. 
During the two weeks "working together", we mostly discussed on Discord and worked on the parts we were assigned at our own pace and time. I honestly felt so much anxiety because a lot of the things we had to finish were done at the last minute. 
I understand that outside of classroom, we have life and work and so many other things we have take care of. We had tried our best to finish the project together and for that, I appreciate.
I do wish we could have communicated and shared more about what we struggled with so we could help each other out.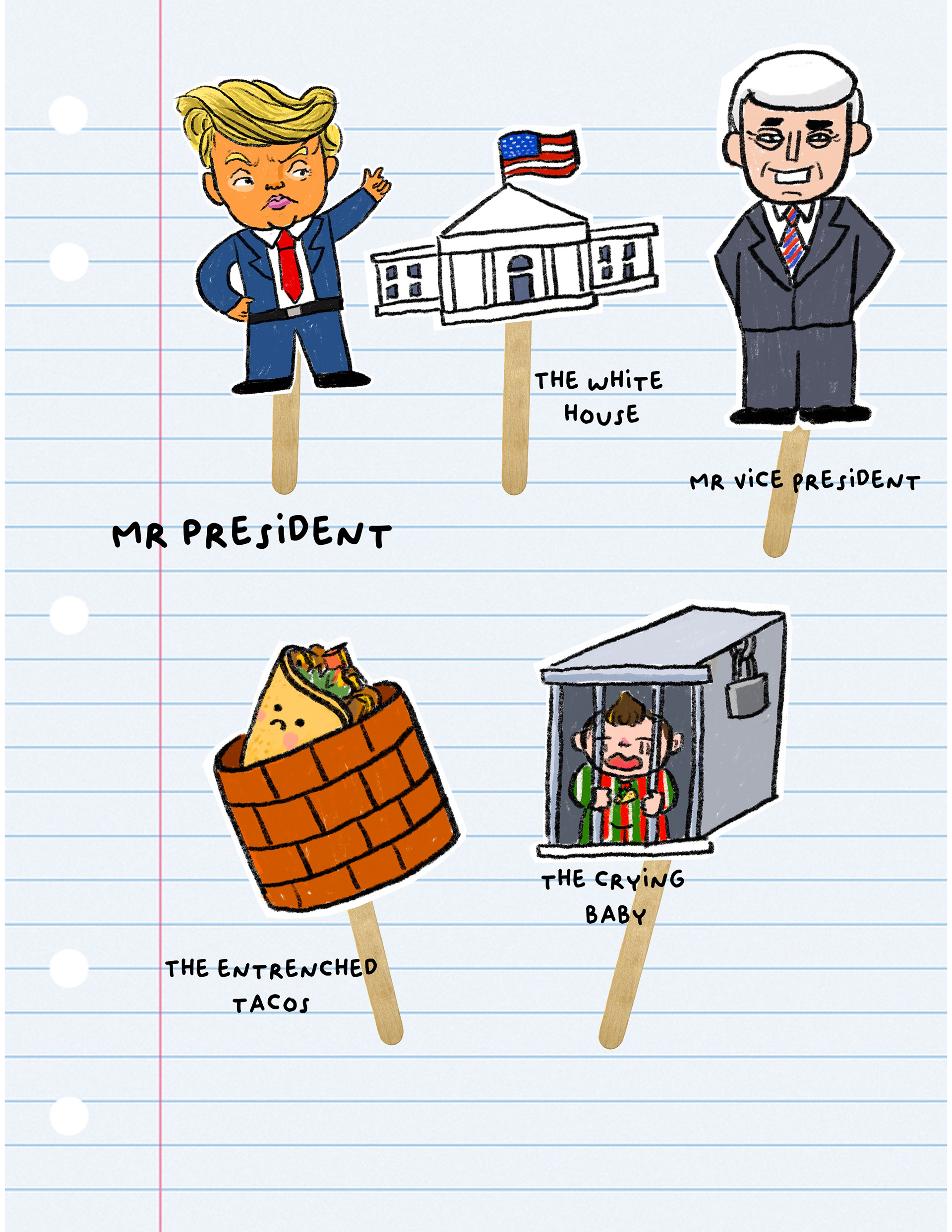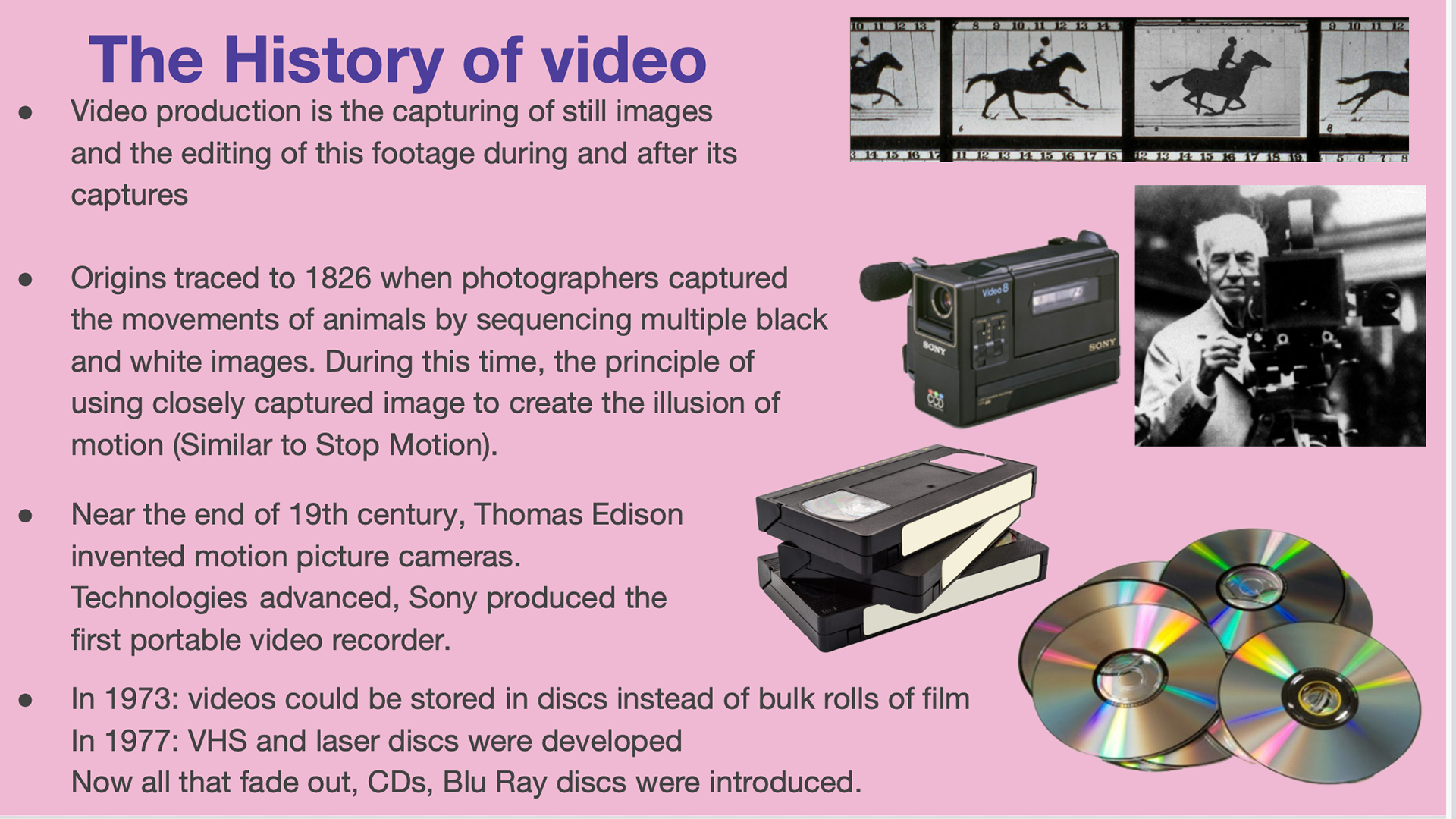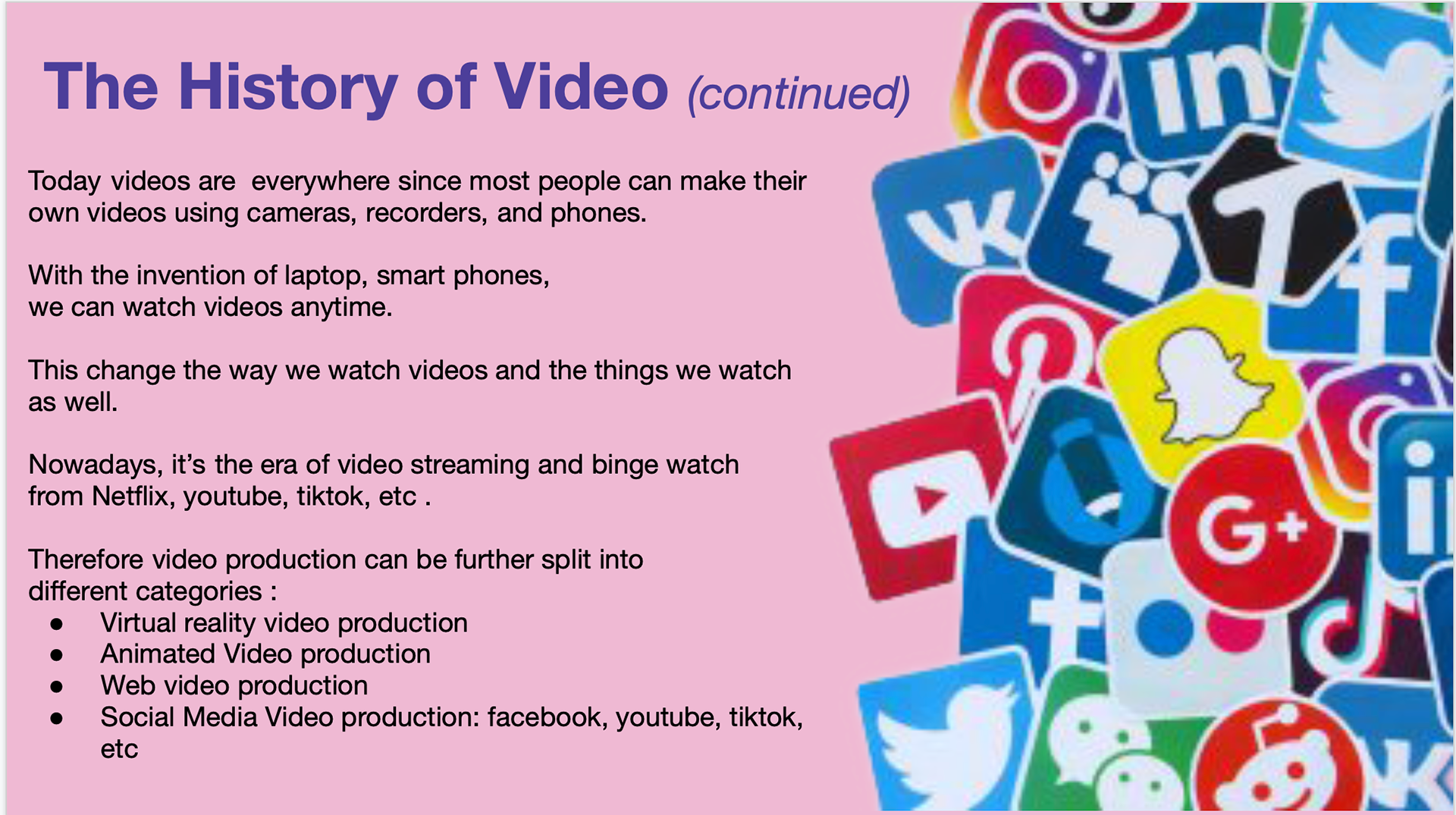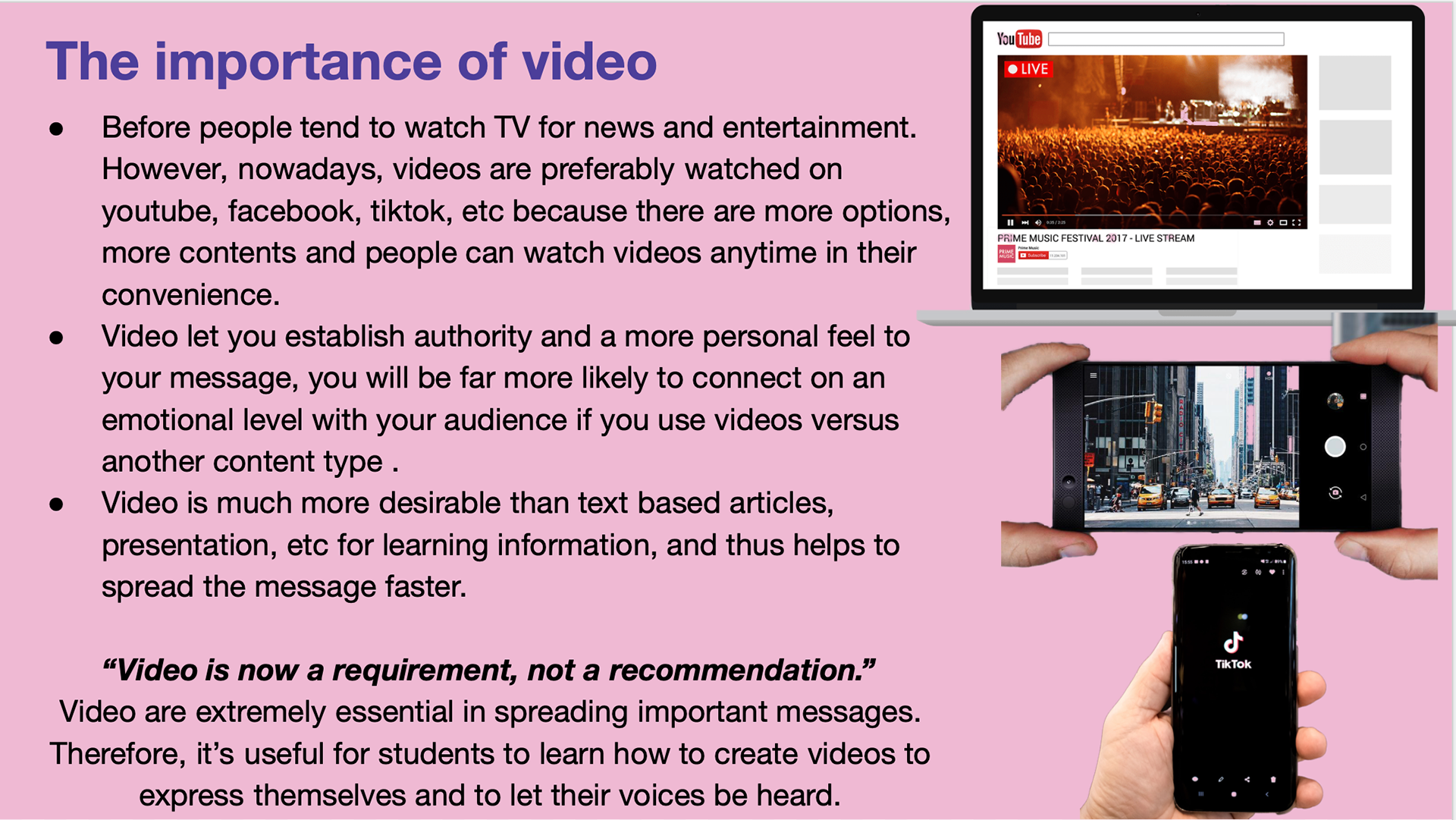 APP REVIEW: H
ow to create GIFs in Procreate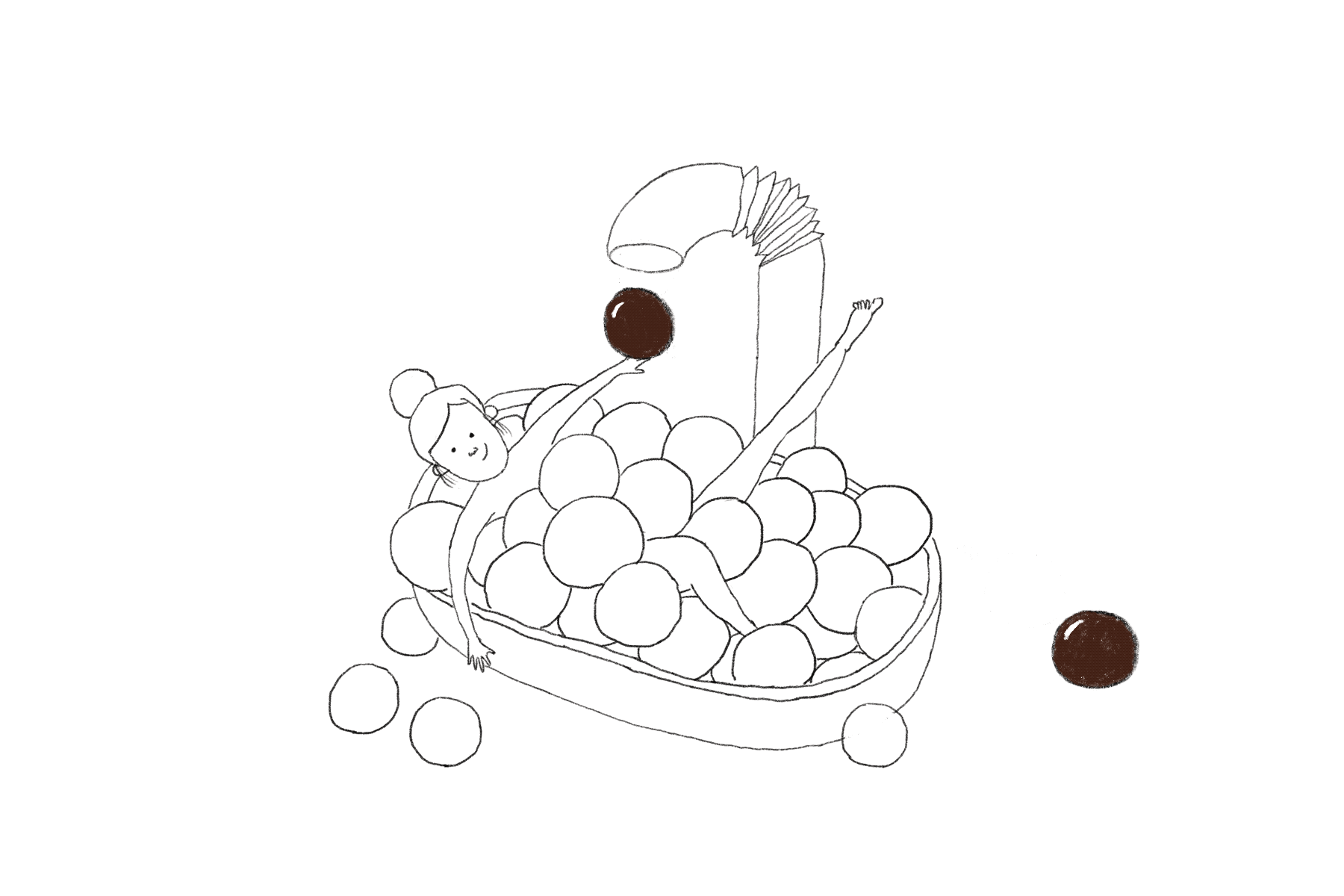 I have recently been interested in short animation such as stop motions, animated GIFs, etc. I have seen some fun and clever animated GIFs on Instagram that have kept me wondering how to make those. For this project, I started to search how to make GIFs with Photoshop because photoshop is something I am familiar with. After a few tutorial videos and some readings, it seemed to be more complicated than I thought. I tried it out along with the tutorial videos on youtube and I decided to leave it to another day. I honestly felt very frustrated of how a simple GIF has to be this complicated. 
I came back and gave it another try  but it didn't get to me this time either. I knew I really wanted to do this, but maybe, there would be other programs that are more user friendly to make GIFs. After a few researching, someone on the internet mentioned Procreate. That gave me such a spark because I had Procreate ( which I already paid for around $10) and I was so excited to try this out. 
I searched a few youtube videos to help me get some ideas how to work around Procreate to create animated GIFs. I was confused with the first video so I still couldn't get it but it did look less difficult as compared to Photoshop. I tumbled on the third video which I think was the best among all. The tutorial showed 5 different ways of making GIFs on Procreate using very simple images. This is very helpful for me to get basic ideas which then I could develop more when I understand the foundation.
I finally picked an image that I really wanted to animate in the past but did not know how to. I spent for around an hour playing around. The process was a bit tricky still, but doable; and the most important part was that it was more enjoyable too. I created several layers of drawing in a motion, each layer is considered a frame. First frame in the animation is the bottom first layer and progresses upwards. Procreate compiles all those frames into a file format (GIF) that loops them indefinitely. Because there were many layers that looked similar, it was a bit confusing when arranging them in order to make the motion work. Unlike Photoshop where users have to export to preview the results, they can preview in Procreate before exporting. This process helps save time going back to fix, change and adjust as needed. 
With the rise of social media, I believe middle and high school students will be very interested in learning how to make simple GIFs. GIFs are very practical because everyone can post them on Instagram stories, Tik Tok, videos as emoji to express themselves or just to make their posts look more interesting.  If students are able to create their own GIFs to showcase their ideas, the experience will be very unique. Students are expected to learn this technique in one or two classes if they already have some experiences with Procreate before. Learning from my experiment, I would teach students how to create GIFs by starting with simple ideas such as moving wiggling letters, water dropping, airplane flying, flowers' petals falling, etc. Those will help the students to build a basic understanding of how motion pictures and animation are created. 
I haven't used Audacity and imovie before, so it's really nice to learn something new and practical that I think it's very useful to teach students to create their own simple videos. I always wanted to make some videos for educational purposes but was shy away because I did not know how to use some programs and too procrastinated to start. The most challenging part to make this podcast is to hear my own voice. I tried to practice so so many times knowing english is not my mother tongue, and for some people, they might find a bit hard to understand what I am trying to say at times. Every time I tried to pronounce correctly, my whole narrative sounded very rigid, monotone and boring because I was too aware and self conscious about my own voice, that it stressed me out. If I tried to be more exciting with the tone and the flow, then I started slurping the words. I kept practicing and practicing until I had a good balance of them both. The video, to be honest, could have been better if I kept practicing but the deadline is here. I think I will use audacity more in the future to record my voice. It's a way to get comfortable with my voice as well as to correct my own pronunciations because  it's important to be able to communicate clearly with my students in the future. 
Hayao Miyazaki is a Japanese film director, producer, screenwriter, animator, author, and manga artist. Through a career that has spanned five decades, Miyazaki has attained international acclaim as a masterful storyteller and as a maker of anime feature films, along with Isao Takahata, co-founder of Studio Ghibli. 
Almost all of Studio Ghibli's animation techniques are very traditional. This being said, all of their frames are hand drawn before being put together to create movement. This process is both repetitive and extremely laborious but Hayao Miyazaki believes that hand drawing is the fundamental of animation. Miyazaki's conviction has been continuous without having broken ever since he got into Toei Animation Studio in 1963. Many crews work together at Ghibli Studio. Countless masterpieces were created there, but their first start is always a piece of paper and a pencil. 
Some of the most famous movies of Hayao Miyazaki are  Mononoke, The Wind rises, Castle In The Sky, Spirited Away, Ponyp, etc but…
"Nothing Miyazaki made could ever top Totoro," Suzuki says, referring to the now-iconic monster. "This became an obsession. Totoro became Miyazaki's enemy."